Music Teacher, Trinitas Classical School - Part time (One day a week)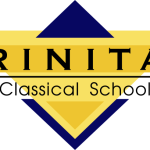 Website Trinitas Classical School
Cultivating Lives of Faith, Reason, and Virtue
1934 52nd Street SE,
Kentwood,
Michigan
49508
Position Description
The Music Teacher works to cultivate in each student an appreciation for music as well as
skills in music theory, performance, and creation through the study of various composers, compositions,
musicians, and vocal practice.
Trinitas Classical School is a K-8 private ecumenical classical Christian school dedicated to cultivating
lives of faith, reason, and virtue.
Position: Part-time, one full day each week
Job Description (adapt the following to the appropriate grade levels):
• Introduce students to prominent composers, musicians and their work, teaching skills of
observation and music appreciation (making connections with periods the students are studying
in history and art when possible)
• Teach music theory, solfège, and possibly composition/creation
• In consultation with Head of School (HoS) and Dean of Students (DoS), prepare concert material
for Grandparent/VIP Day (October), Lessons and Carols (December), Fine Arts Night (May), as
well as a blessing for Graduation/Awards Night (June), and possible nursing home event (May)
• Prepare students for concerts, including performance etiquette
• In consultation with HoS and DoS, arrange for accompanist for concerts and rehearsals as
needed
• Teach proper music room etiquette and procedures including stewardly use of time and space,
proper care of materials and any instruments, and respect for others and their work; help to
cultivate the Virtue of the Quarter
• Organize storage areas and keep track of materials inventory
• Evaluate each student's participation and work for progress reports
• Work with admin to further develop the music curriculum, especially exploring ways to provide
a distinctly classical approach to music instruction
• Submit outline of each quarter to HoS, DoS, and Dean of Academics
• Organize field trips (e.g., GR Symphony 5th grade and Lollipops concerts; GR Ballet)
• Work with other teachers and communicate with families for a Composer of the Month (or
Quarter) program
• Communicate with parents through quarterly or monthly updates in the classroom newsletters
and as needed
• Participate in staff meetings and professional development as requested by HoS
Additional Possibilities (not required):
• Morning Prayer participation – teacher and/or music classes
• Oversee and/or instruct teachers in music activities for Friday Focus time
• Work with Bible, history, and art teachers for inter-disciplinary learning
• Incorporate instruments, dance or other movement
Experience in music education and choral work preferred. Teaching certificate not required.