Head of School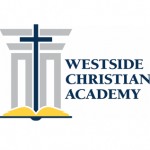 Website Westside Christian Academy
23096 Center Ridge Road,
Westlake,
Ohio
44145
Position Description
Westside Christian Academy in Westlake, Ohio is an independent, nondenominational Christian discipleship school that offers a classical education.  Westside presently enrolls 292 PK-12th grade students and is quickly heading toward an expected enrollment of 444 in 2027 with the present growth trajectory. Therefore, the current Head and Board are nearing completion of a Master Plan to expand the facilities the school currently owns, a project which will be underway by the time the next Head of School begins. Exceptional parent and staff survey results indicate that Westside is delivering what it promises, with both satisfaction and energy levels at the school scoring high. WCA desires to see continuous improvement as the school grows, building upon what is already strong.  WCA's Board is seeking a Head of School who is a mature follower of Christ, deeply and personally committed to God's Word and to prayer, and submissive to His Word.
To view a search video and to see the full Opportunity Profile including the Process of Candidacy, see www.jobfitmatters.com/Westside.
Laura Coverstone and Ed Poff of JobfitMatters are assisting WCA and candidates through this process.   We look forward to hearing from prospective candidates.