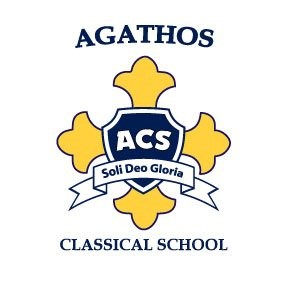 Contact Information
E-mail: [email protected]
Phone: (931) 388-0556
Address: 1201 Mapleash Avenue, Columbia, TN
About Our School Program
Agathos Classical School is known in our surrounding area as a place that feels like the next best thing to homeschooling: familial through its size (1 class per grade with 15-17 students per grade); academically challenging with its emphases in the classical liberal arts; intensely personal in its discipleship due to the intentional discussions held around "harkness" tables; Truth driven as we hope to cultivate a love for the primary sources (ancient through modern), Bible, theology, and the Church; thoroughly Christian from its emphasis in admitting professing Christian parents into its community, developing the whole child through added programs like Recitations, Thesis Presentation, Cross country, Fencing, Equestrian, Golf, Soccer. Most recently, Agathos's high school Mock Trial team finished 6th in the state after finishing 1st in it 14 county wide regional competition.
About Our Community & Mission
Using the tools of classical education, Agathos Classical School assists Christian parents in teaching and training their children to the glory of God. While college and career readiness are not the primary goals of classical Christian schools like Agathos, our graduates far exceed peers in these measures. Educators employ methods that have helped produce the greatest contributors to Western Civilization for well over one thousand years - authors, architects, scientists, theologians, artists, statesmen, and leaders of families and nations. Agathos means Goodness - the type of Goodness handed down as a godly legacy. Good for the Children; Good for our World.
What We Are Known For In The Community
Several things come to mind as "uniquely Agathos" Protocol Training - our ongoing cultivation of manners and social graces. Students graduate from one special protocol event to another culminating in evenings of fine dining, Nashville special events (symphony, artistic shows, etc.) and ballroom dance. Stone Soup Supper & Cocoa Bella - our two annual fundraisers - attendees hear from a speaker at the former regarding classical and Christian topics while at the latter, the greater community of Columbia gathers for special entertainment and gourmet chocolates. Uniforms: Agathos was the first school in Columbia to initiate the wearing of uniforms; most schools have followed our lead! Warrior Run: Every Cross Country team in the county (and beyond) look forward to our unique campus run!
About The Area We Serve
We serve the Greater Maury County area south of Nashville just off of I-65 (e.g. Columbia, Spring Hill, Thompson Station, Culleoka, Mt. Pleasant, Lawrenceburg, College Hill, Centerville and other small towns) and south of Franklin of TN and south of I-840. This area has a vibrant and healthy small town life and a strong private school community dating back to the 1800s. Maury Regional hospital is the second largest employer next to the public schools (which includes TN's oldest community college: Columbia State C.C.). Many area workers commute to the GM plant and its subsidiaries in Spring Hill or to Nashville (45min). Home to an international Mule Festival, Columbia, aka Mule Town, boasts an old town Square which is thriving and growing ever more popular for coffee houses, restaurants, a farmer's market, and retail business.
School Information
Laura Powers

Candidate

(931) 388-0556

Nov, -0001

2003

NA

May, 2003

NA

5-day traditional

NA

NA

NA

International Student Program

NA

NA

Ted Trainor

No

NA

NA