Wickenburg Christian Academy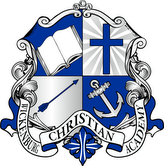 Contact Information
E-mail: [email protected]
Phone: (928) 684-5916
Address: 260 W. Yavapai St., Wickenburg, AZ
About Our School Program
Established in 1983, the school has offered grades K-8 for over thirty years, adding a preschool program in 2005 and the Legacy High School program in 2011, including a comprehensive four-year program for grades 9-12. The innovative use of video conferencing technology makes the Legacy program available to students off-site, currently including students attending classes from South Dakota and northern Arizona. The '16-'17 school year will expand available options to provide more support for home school students and other Christian schools.
About Our Community & Mission
At Wickenburg Christian Academy we view education from a perspective that takes into account the "whole" spectrum of school life, from the preschooler through the high school graduate. It is our prayer that the quality of Christian education and leadership that we promote will propel our students further in their goals with an advanced development.
What We Are Known For In The Community
Awards and Distinctions - Soroptomist Scholarship Award Winners - President's Scholarship Award Winners - Academic Scholarship to Biola University - Paedia Scholarship New Saint Andrews College - George Wellik Grant Arizona Community Foundation College acceptance by Legacy High School Students - Arizona State University - Biola University - Northern Arizona University - Estrella Community College - Yavapai Community College - Glendale Community College - Grand Canyon University - New Saint Andrews College - New Geneva Leadership Academy - Westmont College - Wayland Baptist College - Phoenix College - Providence College - U.S. Naval Academy -
About The Area We Serve
In the foothills of the Bradshaw Mountains along the Hassayampa River, 60 miles northwest of Phoenix, lies the historical western town of Wickenburg. The year-round population of 6,500 surges during the winter months with the influx of new and returning folks eager to embrace the mild temperatures and relaxed western lifestyle. In a community this size, it is a novelty to have a choice of public and private schools.
School Information
NA

No

(928) 684-5916

Nov, -0001

1983

NA

Oct, 2012

NA

Other, see notes

NA

NA

NA

International Student Program

NA

NA

NA

No

NA

NA