Immanuel Lutheran School (VA)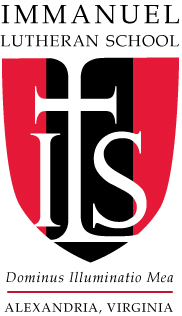 Contact Information
E-mail: [email protected]
Phone: (703) 549-0155
Address: 109 Belleaire Road, Alexandria, VA
About Our School Program
Our curriculum strives to nurture the mind, body, and soul through a liberal arts education. We study subjects increasingly unique to modern students –phonetic reading, Latin, logic, world history—encouraging young minds to look beyond themselves and their own modern culture to the world around them. Through consistent exposure to the truth, goodness and beauty of our Western culture, students are immersed in art, music, literature, sciences, history, and mathematics. Our curriculum uses the trivium theory of development toward these ends. Lower School students, in the "grammar stage" of learning, are talented at absorbing and observing everything around them, so we seek to provide wonderful things for them to observe! Students up to 4th and 5th grade are focusing on absorbing all they can and practicing habits as much as they can in a lively and active way. They are learning how things work, and are incredibly motivated to understand these things. As students mature into the "dialectic stage" of development, our students embark more and more into the world of Socratic debate and discussion. They are seeking to understand how ideas interact, can be very idealistic, and often want to intellectually grapple, so we train them to reason well, to speak and write with clarity, and to be organized and expressive. A great education imparts knowledge and helps children work towards retention and mastery, but knowledge alone is not enough. A fully formed person will be skilled to use their knowledge well and wisely. First, an education at ILS helps build the skills of a true scholar: from academic virtues such as intellectual honesty and diligence to engaging in close reading and careful discussion. Second, it shapes the heart and habits of a child and his vision, attitudes, and habits. By emphasizing and practices the habits we value as a school (truth, excellence, honor, faithfulness, and love), students are constantly engaged in practicing these virtues, recognizing and valuing them in others, and seeking to embody them more and more. Most importantly, the Word of God is a constant presence in our school; as a regular and daily feature of the life of the school, prayer, worship, and the proclamation of the Gospel will frame classroom instruction and discussion. Our prayer is that each and every one of our students lives out their various vocations, with love and service to their neighbor, in response to the love and mercy God shows each of us.
About Our Community & Mission
The mission of Immanuel Lutheran School is to nurture the minds, hearts, and bodies of students in grades Jr. Kindergarten through Eight with classical education and Lutheran Catechesis.
What We Are Known For In The Community
One of the best parts of ILS is our community! We encourage students to build bonds through great traditions that return from year to year, from celebrating National Lutheran Schools week to taking part in our Advent Vespers service, to library trips and birthday parties. We value interactions between all classes, so that our youngest scholars can learn from our more experienced students, who themselves are practicing leadership and service. ILS also employs a house system for our older students, much like student teams, that allows for quarterly competitions. Instituted and sponsored by our faculty, the House System is meant to encourage culture, a distinct sense of school pride, and to recognize those who go above and beyond in the spirit of the team. What house will you belong to? We encourage parents to build bonds as well, through Friday morning coffee and conversation hours, spending time observing classes and helping with special projects, connecting with other parents, and engaging in meaningful conversations about parenting our children.
About The Area We Serve
ILS has been serving families from Northern Virginia and throughout the DC Metro region for over 70 years. Families in our school enjoy the many sites and museums that the DC area has to offer.
School Information
Christina Egger

No

(703) 549-0155

N/A

1945

Pre-K, K, 1st, 2nd, 3rd, 4th, 5th, 6th, 7th, 8th

01/14/2008

133

Number of students k-6 Non-Traditional

N/A

5-day Traditional

31

Number of students 7-12 Non-Traditional

N/A

11

N/A

International Student Program

No

$-$

Kara Parker

Yes

Jennifer Hardy

CCLE, NLSA