Lighthouse Christian Academy (MD)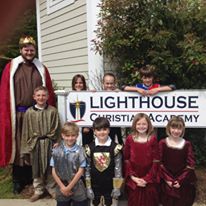 Contact Information
E-mail: [email protected]
Phone: (410) 643-3034
Address: 931 Love Point Road, Stevensville, MD
About Our School Program
Our strong commitment to classical Christian education seeks to awaken love and wonder in our students by mastering the fundamentals of learning and examining all knowledge through a Christian worldview. We teach students to observe the world around them with humility, to think with reason and logic and to speak with clarity and precision.
About Our Community & Mission
Dedicated faculty and staff work tirelessly with our students and parents to create a community of believers who seek to praise and honor God in everything that they do.
What We Are Known For In The Community
Lighthouse Christian Academy is a family oriented school which involves our students' parents in all aspect of the school experience and welcomes their involvement every day. We seek raise up godly men and women who find joy in their relationship with Jesus Christ, our Lord.
About The Area We Serve
We serve a rural and suburban population located on the Chesapeake Bay with Annapolis, Washington D.C. and Baltimore only a short drive away. Fishing and boating on the Bay and its tributaries as well as biking and hunting are activities enjoyed by families at our school.
School Information
Kathleen Guerra

No

(410) 643-3034

N/A

2001

Pre-K, K, 1st, 2nd, 3rd, 4th, 5th, 6th, 7th, 8th

02/05/2001

78

Number of students k-6 Non-Traditional

N/A

5-day Traditional

16

Number of students 7-12 Non-Traditional

N/A

N/A

N/A

International Student Program

No

$3800-$8950

Kathleen Guerra

No

Bobbie Bell

None