Membership in the ACCS makes running a school much easier. Once you join, you can take part in growing communities and networks, access member tools and benefits, and become part of multi-faceted advocacy and promotional initiatives to build and grow the classical Christian movement around the nation and the world.

Overview: What is ACCS Membership?
For the past 30 years, parents have trusted ACCS schools to provide quality classical Christian education. Over this time, schools of all types have adopted the moniker "classical Christian" to draft on our growing reputation. Our membership levels provide parents with the assurance that the school they have chosen is a "classical Christian school."
Read more: What Does It Mean to Be a "classical Christian" school in the ACCS?
3. Final step.
Receive and complete the Membership Application.
Accredited Members
ACCS accreditation is among the most challenging of any accreditation in k-12 education, classical or conventional. Our schools conform to rigorous classical Christian academic practices and philosophy. No other accreditor provides this assurance to parents. Our accredited schools operate independently of state or federal governance. Learn More: Why Choose an ACCS Accredited School?
College, Business, and Homeschool Affiliates
We appreciate the support of our affiliates and we provide special services to these partners. However, "affiliate" status does not require that these organizations meet membership standards. See College Affiliates | See Business Affiliates
Summary of Membership Requirements & Costs
You can find more detail in the Member Handbook, but we thought a summary would be helpful. For costs, continue scrolling.
Member schools must:
1. Be private and classical Christian.
2. Not accept government funding sufficient to compromise the classical Christian mission should the government funding be withdrawn in the future.
3. Operate a school with classrooms (physical or digital) and teachers where students are sent by their parents to be instructed.  Nontraditional models like "University"™ model schools, or online schools qualify.
4. Serve some combination of grades k-12.  We do not charge per-student fees for pre-k.
5. Commit to providing or finding a path to full k-12 classical Christian education for students. This can include a future plan or a path involving another school.  For example, if you are k-4 planning to go to k-8 at which time students may transfer to another classical Christian 9-12 in your area, you qualify.
6. Serve more than one family. Homeschools qualify as individual affiliates. Homeschool co-ops that offer high school diplomas may qualify. Generally, co-ops that offer classes, but no comprehensive program, do not qualify.
7. Conform to the trivium in the grades that you serve and provide at least two years of Latin or ancient Greek, one year of formal logic, and one year of rhetoric in the secondary for each student.
8. Support the work and mission of the ACCS.
9. Agree with the ACCS definition of classical Christian education (see this page) and implement it insofar as you have the ability and resources.
10. Agree with our statement of faith. (See our new statement on the web or in the handbook.)
11. Not discriminate on the basis of race, color, or national/ethnic origin.
12. Not affirm unbiblical family relationships.
Also, note: We have a "Transitional" membership under which schools do not need to meet requirements 4 and 7 for 5 years.
Current membership dues are:
$300 per school plus $9 per full-time k-12 student.*
*Pricing discounts available for university model and shared-instruction model schools.
New members that join between July 1st and December 31st have immediate access to member benefits and will be members through the end of the next calendar year. For example, a new school paying dues on September 1st, 2019 will enjoy member benefits immediately and through December 31, 2020.
New members that join between:

January 1st and March 31st: Deduct 25% from standard annual dues. Membership extends through December 31st of the calendar year in which it was paid.
April 1st and June 30th: Deduct 50% from standard annual dues. Membership extends through December 31st of the calendar year in which it was paid.
July 1st through December 31st: Pay full annual dues, but receive membership status and benefits for the rest of the current year and the following calendar year.
International schools are those outside the US and Canada. They pay a flat fee annually. This reduced fee represents the reality that many of the ACCS member benefits are less useful or unavailable for those schools from outside the U.S. The fees for international members are not prorated if the school joins mid year.
Note: A special rate is available for mission schools in certain instances.
Current International fees: $190
We have three affiliate levels for those who want to join our community and stay in touch, but who don't happen to be a qualifying "school."
Different levels of affiliate dues are paid, based upon the type of entity that seeks to join as an affiliate. Affiliate dues are not pro-rated. Affiliates are not able to access the MRC at this time.
Individual/homeschool affiliate: $25
Homeschoolers and individuals often join the ACCS to stay connected to classical Christian education and to be added to the subscription list for Classis magazine.
Business Affiliate: $200
Some businesses join the ACCS affiliate group to show their support. Others want to stay connected and make their products or services visible to our members. Either way, business members get access to our membership list in an Excel format.
College Affiliate: $500
College affiliates gain visibility, vendor priority, and access to our members in various ways. College members also receive our member list in Excel format.
Membership dues for US and Canadian schools consist of two components: A fixed amount plus a per-student assessment. The per-student assessment is based upon the number of full-time students that a school has in k-12 and is calculated in the following way:
Pre-k students are not assessed (no dues are collected for these students). k 3-year olds and k 4-year olds in a school with a separate k5 grade level are considered pre-k. If the school has an integrated k program (including 3's, 4's, and 5's in the same classroom), then all of these students are included in the k-12 count.
A full-time student is any student who is on track to graduate with a diploma from the school. If the school does not offer diplomas (for example, it is k-6), then a full time student is any student who attends class for the normally allotted time considered "full-time" by the school. This definition covers both traditional and on-line schools.
Schools that have more than 750 full-time students attending need only pay for 750 students. We appreciate a contribution equivalent to the full number of students if the school desires.
For shared model schools: A shared model school (non-traditional scheduled school) has students attending fewer than 21 hours of class per week (recess/lunch are considered a class for this calculation) with the expectation that parents will do some school at home. Because these schools generally have lower tuition, we adjust the per-student rate. We ask that schools not alter their number of students (2 students = 1 student) because this effects our national count of total students in ACCS Schools. Rather, we ask that the following guidelines are followed:

Students who are not "diploma seeking," typically who take a class or two as electives, are not counted. Do not enter them into the system.
We collect pre-k data, but we do not count them in our dues.
If a diploma-seeking non-traditional students normally attend fewer than 21 hours per week (recess/lunch included as class hours) and do the remainder of time at home, then we will reduce the total student assessment by $4. There is a special box for this number in the membership application.
Students who attend more than 21 hours per week are considered full-time. Enter them in the full-time student box.
For distance/online schools: An online school provides the majority of the instructional process at a distance, usually through a computer. We charge only for diploma-seeking students. In k-8, "diploma" means that the student is participating in a program intended to meet the majority of their required schooling for that year. Part-time students who take classes ad hoc are not counted. "Diploma seeking" students are charged 50% less at online/distance schools because our services at present are less helpful to online schools than they are to "brick-and-mortar" classical Christian schools.

Improve with Resources
Access tools and information through our Member Resource Center (MRC).  Schools can find countless resources, free to members, for all aspects of running a school, including:

Learn and train with ease.  Access to hundreds of past conference speeches and talks free of charge, organized to help you find just the thing for this week's staff meeting.
Find just the right fit.  Curriculum and vendor resource guides that will tell you what resources are out there, how many members use each resource, and what they think of it.
Don't start from scratch.  Documents, forms, and even more documents are available as templates from schools across the country.  From parent handbooks to enrollment forms, to employment agreements, you can find something to borrow, or something to improve.

Our career center is a better way to find staff:  Updated daily, our Career Center posts ads, both for jobs and people seeking jobs.  Those seeking jobs also fill out an online CV that helps you get to know them based on additional information such as the books they read, their background in CCE, and their interests and experiences.
Research helps you make better decisions:  We research and report on test scores and vital school statistics annually.
Encourage your teachers and staff.  Classis is a quarterly publication of ideas and happenings from around the classical Christian community.  ACCS-sponsored webinars are typically free to members.
Receive discounts for conferences attendance, curriculum, academic services, insurance, and more.
Engage Parents and Prospective Families
Recruit new families.  Member schools are listed on our School Finder tool, which has an average of 3,000 visitors per month. Each school has a customizable page they can control.  These pages often are among the top results in searches.  Together, classical Christian schools can increase our profile on the web.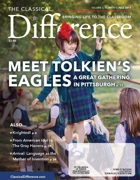 Engage and educate parents and improve retention with The Classical Difference.

We have had a tremendous response to your magazine. More often than not, families that visit our school … cite it in answering our question about how they heard about CCE and our school. Our families have used it well to promote the school; leaving copies at their church, giving it to friends, etc. —Matthew WT Hopkins, Headmaster, Augustine Classical Academy, NY
Many schools place these in their lobby to expand the vision for visitors about classical Christian education.  Most schools also have them sent home to parents to gain buy-in and educate parents in what we do.

Represent value and quality to your parents.  Use our pre-prepared graphs to tell your parents that you are part of a national presence.
Speak more loudly with one voice.  We promote classical Christian education in the press, through advertising, and online.  Members benefit collectively from our efforts.
Join a Community
Join a virtual community of CCE educators:  Our online forum connects thousands of classical Christian educators to help unite and sharpen their work in the classroom and in the office.  The forum is active daily and supports administrators, teachers, and boards within CCE.
Teacher certification, accreditation, diploma authorization, and training endorsements help improve our schools, uphold the quality of CCE, and communicate to parents that you are part of a proven movement.
Participate in classical Christian student contests: The Blakey Prize in Fine Art, the Chrysostom Oratory Competition, and the ACCS Honors Choir offer cash prizes, travel, and other awards. Find out more.
Stand with a united voice:  When we join together, we can represent classical schools in the national media, among national associations tracked by the National Center for Educational Statistics, and as we engage state and national government.