The Greek word for an ancient concept, Paideia has no exact English translation. It is essentially the part of upbringing and education that forms the soul of a human being — and it is key to the formation of a culture.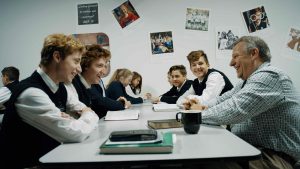 When defining Paideia, words such as education, training, and culture are often used. Other frequently used phrases are "Christian worldview" or "good character," but Paideia involves much, much more. It shapes what a person loves, what they enjoy, and how they think and act. Paideia is the ingredient in our hearts and minds that motivates the choices we make, determines how we see the world, and sustains our culture.
What does education have to do with culture? Classical education recognizes that the answer is "everything."
Classical education considers the whole person, including their worldview, habits, thought patterns, character, and culture. As a person grows up, they absorb their surroundings, not just the answers to test questions. Their education shapes who they are, and how they see the world and act within it. Education should be first and foremost about the cultivation of virtue and a deep appreciation of truth, goodness, and beauty in the souls of our kids.  The objective, then, is to shape the virtues and sharpen the reason of students so that these things are in line with God's will — a Christian Paideia.
With a Christian Paideia, our goals can be much bigger.
Every form of education shapes Paideia, but ever since classical education became classical Christian education, Christians have recognized the importance of a Christian Paideia. In Ephesians, Paul uses the word Paideia when he says: "And you, fathers, do not provoke your children to wrath, but bring them up in the Παιδεια (paideia) of the Lord." From the first century to the 19th, classical Christian education was the way Christian parents cultivated a Christian Paideia in their children. 
The time-tested ideas behind classical Christian schools are foreign to most modern educators.  The model's transformative power lies in one truth:  Christ is Lord of all.  So, what does that mean for how we live?  How we think about things?  What we value and what we love? In short, education is primarily about what we are trained to love, not just what we are taught to know.
Put another way, education is about soul formation, not just information. And this formation builds a culture. When carefully considered, a foundation this big transforms every aspect of school.
Education is not subject, and does not deal in subjects. It is instead a transfer of a way of life.
— G.K. Chesterton